100% Natural Single & Limited Ingredient Healthy Dog Treats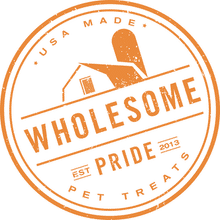 The Critters & Me is proud to carry Wholesome Pride in Santa Fe, New Mexico. Wholesome Pride Pet Treats was started in 2013 by Chase Peterson, then 17 years old, to provide a line of single & limited ingredient dog treats that improve the lives, health, and balance in a pet's nutrition.
Dog Treats
Sweet Potato Chews Sweet Potato Mini Bites Sweet Potato Fries Punpkin Strips Banana Bites Pride Mix Doggy Biscuits.